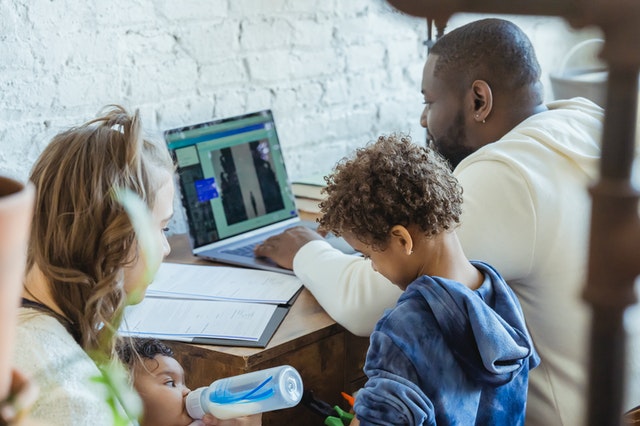 Do Your Benefits Support DEIB? Four Questions HR Leaders Should Ask
If there ever was a time that revealed that no two of us fight the same battle, it was during the COVID-19 pandemic. Virtually (pun intended) overnight, we found ourselves in teammates' living rooms, back yards, closets, and for the lucky few, home offices. We maintained a poker face as cats walked across keyboards and toddlers demanded attention during big client meetings. And we offered glimpses - whether we wanted to or not - into the lives that we've been conditioned to leave at the door when we get to work. We saw how much we had in common, and how different we were. The pandemic highlighted how underserved some groups of people truly were.
While the topic of diversity, equity, inclusion, and belonging (DEIB) in the workplace isn't new, 2020 made it clear for companies that if they weren't reevaluating their DEIB initiatives, they should be.
WHAT IS DIVERSITY, EQUITY, INCLUSION, AND BELONGING (DEIB)?
DEIB stands for diversity, equity, inclusion, and belonging. Diversity is the presence of differences within a given setting. Equity is the process of ensuring that processes and programs are impartial, fair and provide equal possible outcomes for every individual. Inclusion is the practice of ensuring that people feel a sense of belonging (how one feels) in the workplace.
COVID's Uneven Impact on the Workforce
For as much as we were all in the same boat through the uncertainty of the peaks and valleys of COVID, there's no denying that certain employee groups faced increased challenges and negative progress when it comes to workplace equality:
Building Your Roadmap
Even with a pandemic, DEIB-related job postings increased 123% from May to September 2020.* If these numbers reveal anything, it's that the work of making people know they belong and that they can bring their whole selves to the workplace needs to be a focus, more than just someone with "DEI" or "culture" in their title. When you start building out a roadmap for benefits supporting DEI, ask yourself these questions:
1. Do we have shared goals with DEI teammates?
Leslie Wilson, Outschool's People Ops Lead, considers benefits and support programs a team effort. "Direct feedback from our employees, meeting with ERGs, and regular polling help to determine the breadth and type of benefits that we offer," she says.
Partnership between your culture, DEIB, and benefits teams has the potential to allow employees to feel safe bringing their whole selves to work and to foster the psychological safety needed to share diverse opinions, all of which lead to better innovation and growth in your company's bottom line.
2. Do we offer benefits targeting different employee groups?

Employees are certainly not one-size-fits-all. Why are we quick to assume employees have the same needs? A common refrain for benefits leaders with tight budgets is "we can't offer benefits that not everyone can participate in." Even putting DEIB aside, taking an equitable approach to benefits and perks puts companies in a winning position when it comes to recruiting and retaining diverse talent, which we know is top of mind with today's competitive landscape.
A recent survey showed that 82 percent of working parents look at work-life balance as the most important factor when considering a new role - compared to 80 percent of those without children, who said salary was most important.
There's no denying the reality of budget issues, but thinking about the cost to hire new employees versus the cost to retain them should be helpful in evaluating the merits of targeted benefits.
3. Are we actively soliciting feedback from employee resource groups (ERGs)?

Assuming your company has ERGs (if you don't, you should start one!), do you meet with them when it comes time for benefits planning to understand the unique needs of the members of the group? Better yet, do you empower them to be part of the benefits planning process? Meeting with ERG leaders regularly is a great way to understand the needs and concerns of the group, and HR Leaders should remember to ask ERG leaders if they would like to advise the company about how to provide better benefits for that group as some ERGs may center on goals outside of the workplace".
When the Working Parents and Allies ERG at Alto Pharmacy - empowered to find solutions - tapped Outschool, they saw nearly half of caregivers say they felt more productive and engaged at work, almost all say the benefit made them feel like their company cares about them, and four out of five say they're more likely to recommend working at their company because of their benefits approach.
4. Are members of our leadership team publicly modeling and championing benefits usage?
Offering equitable benefits is one hurdle. Getting employees using them is something else entirely. 39% of working parents fear they'll be fired if they take advantage of child-care benefits at work. Your leadership team is key in modeling being a "whole" human. For example, Outschool's partner Twitter took to their own platform to encourage parents to share the realities of juggling childcare and work with their #WatchUsWingIt campaign.
Even here at Outschool, our CEO modeled the importance of parental leave by taking disconnected time off himself. Parents also are encouraged to share when their kids take an Outschool class, which all employees receive as a perk. Both dads and moms are encouraged to take advantage of workplace flexibility and block off their calendars for their child's pick-up from daycare and afterschool activities.
Outschool makes it easy to demonstrate commitment to the well-being and inclusion of over a third of your employee base: working parents. Want to learn how Outschool can help you reach your culture goals? Schedule a demo today.

https://www.benefitspro.com/2020/12/01/building-a-benefits-plan-that-supports-dei-moving-from-slogans-to-a-comprehensive-strategy/?slreturn=20211018130018
*https://www.gnapartners.com/resources/infographics/working-parents-the-american-workforce